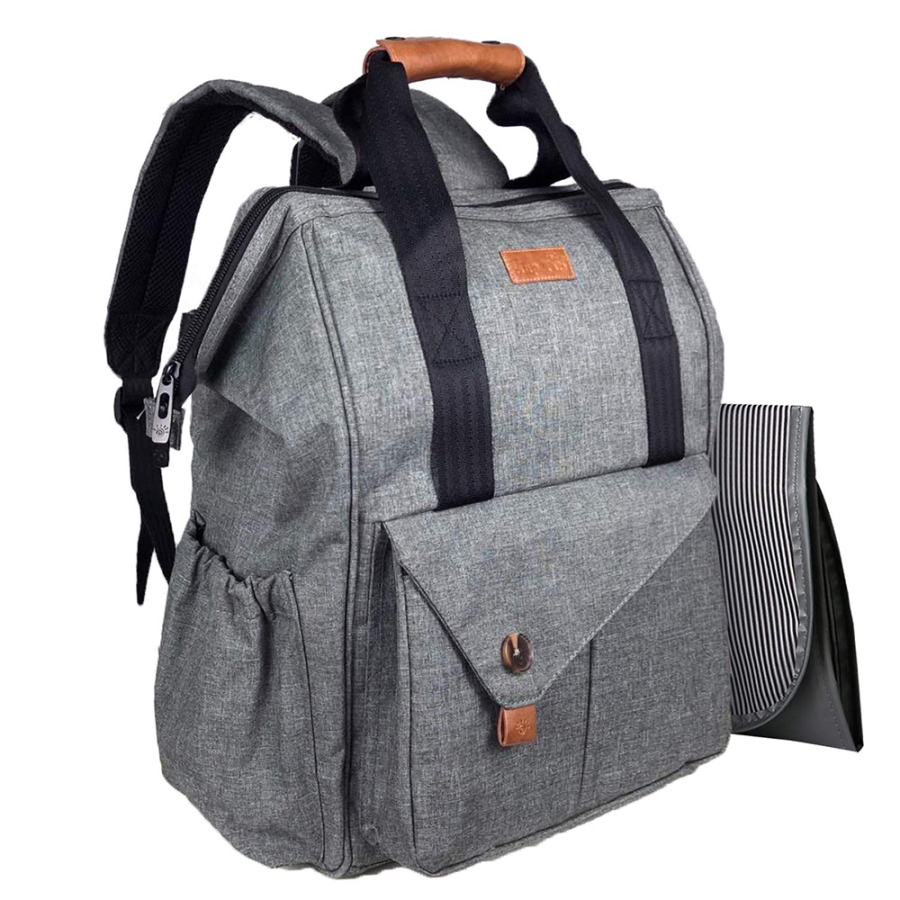 HapTim Multi-function Baby Diaper Bag Backpack - Nylon Fabric Waterproof for Moms & Dads (Gray-5279)
$40.99
We have loved this diaper bag from the start - so many convenient pockets, stylish for both Mom and Dad and holds a ton. My only con and why I knocked a star off is that the leather strap at the top has started peeling and falling apart. We only use this to pick the bag up and put it on our shoulder, not carry it by the handle, so it is frustrating to see this happen on what I would otherwise call an exceptionally well-made bag. Wish it was a nylon closure or something for longevity.
Love love love this diaper backpack!! As a parent of 3, We've tried many bags. Carter's, Graco, Skiphop and the very popular (And pricey) Petunia Pickle Bottom brand from Nordstroms. And truly, this Haptim bag is the BEST! Pros: Very fashion forward, hubby isn't embarrassed to wear it, comfortable straps, it's light, many hidden pockets, opens up and holds it's shape so it's easy to see exactly where everything is in the bag instead of digging through it blindly like other brands. Cons: truly the only con I've found was it isn't the easiest to open with one hand, can be a challenge if you're holding a little ones hand while trying to get into the bag as the zipper though great quality doesn't unzip easily. Overall, I LOVE this bag! Cannot stress enough the great quality and such a reasonable price!
I searched for far too many hours on Amazon looking for the perfect diaper bag for our second child! I have no regrets and choosing this one. One of the greatest values we found in harmony purchases a baby gear. I get compliments all the time when I carry it for it's attractiveness. I even had an expectant mom takes picture of it while out shopping this past week. She wanted one of her own! It's also incredibly functional! Hides the wear and tear of everyday use and is relatively cleanable. Tons of room for both my infant and my four-year-olds belongings while we are out. Numerous pockets for organization. Two nice size pockets on the side. One is supposed to be used for wipes. The stroller straps are Genius and can be used on more than just strollers. I like to use them on grocery carts so that the diaper bag isn't taking up more space!
Your cart is currently empty.